60-Day Money-Back Guarantee
100% Satisfaction Guaranteed
At Last! A handy and useful pocket guitar that allows you to practice anytime anywhere without dragging along your real heavy guitar!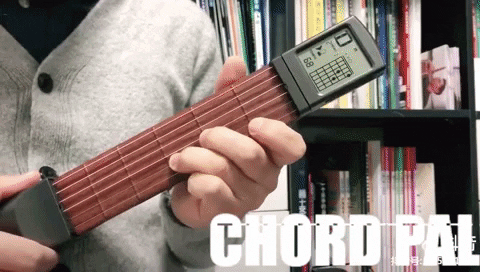 This Digital Guitar Trainer allows you to take lessons wherever you are for however long you prefer. It is an ideal product for both amateurs and passionate guitar players. The device is small and portable. 
The screen of the trainer can easily twist. This means that all beginners will easily remember chords and practice the finger movement. Also, the metronome is allowing you to set the tempo of your learning.
The trainer features real steel strings. This means that you will learn how to set the tension of the strings as well. Even though you are playing the trainer, you are still building calluses.
FEATURES:
CHORD CHART DISPLAY:This pocket guitar has a chord display function that you can correct your mistakes in time.

WITH METRONOME:There is a metronome inside the device that learners can learn any chords rhythm at will.

PORTABLE GUITAR:It's convenient to carry and a quiet practice tool without sound.That you can practice anytime.

GENUINE STRINGS:Equipped with genuine guitar steel strings help guitar learners to getting muscle memory,and the tension of the strings can be adjusted.

SERVICE GUARANTEE:we have 100% confidence for our products quality.If you have any problems,please feel free to contact us.
SPECIFICATIONS:
Size: 19x1.5 inches
Included: trainer, battery and a tool for adjusting the strings
Limited to first 500 customers*
*Please note - Due to high demand, we anticipate delivery of your awesome product within 12-25 days global (quicker to US, Canada, & Australia). In some cases, our carrier may take longer than the estimated delivery time to deliver our items to you. Additional delays may occur due to weather conditions, holidays etc. On orders of 2 or more items, faster shipping will be provided whenever possible!