DIY Cracked Glass Universal Repair Kit
30-Day Money-Back Guarantee
100% Satisfaction Guaranteed
This DIY Repair Kit allows anyone to fix cracks or chips in windshields or phone/tablet glass screens, safely, easily and inexpensively, before those imperfections enlarge. Avoid paying for an external service and repair it yourself cheaper and faster. Kit includes everything needed to create a quality repair. 
The repair device with the help of an advanced resin formula has the vacuum function necessary to quickly remove the air from the crack. The resin ingredients match the optical qualities of glass and therefore the result is a clear and blue-free repair.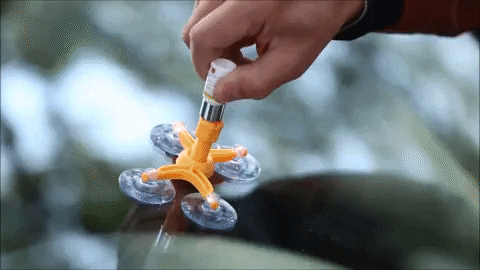 NO MIXING OR HEATING - The liquid repair resin comes pre-mixed and ready to apply.
 PATENTED DESIGN - The patented design evacuates the air to fill the cavities with specially formulated liquid glass and connect the broken glass, preventing the spread of damage.
 WIDELY USED -  This kit is suitable for repairing minor damages on windshields, laminated windows or phone screens. Can be used to fix car cracks, breaks, targets, etc.
 FAST ACTING - You will be able to complete your repairs in twenty minutes. 
 STOP CRACKS FROM SRPEADING - Not only will the repair kit restore your broken glass, it will also stop the cracks from spreading. 
 SAVE MONEY AND TIME -  Avoid having to pay for an external service when you can do it yourself in less time and in a cheaper way.
 EASY TO USE - The kit comes with everything that you need. For smaller cracks, simply apply the repair resin to the cracked surface, place the curing strip over the surface, and press to eliminate air bubbles. Then, allow the resin to dry, remove the curing strip, and scrape off the excess resin with the enclosed razor blade. For larger cracks, use the suction cup and pressure applicator. You'll be amazed at how easy it is.
Specifications:
Color: multicolor

Material: plastic
Package size: 220 x 110 x 25mm/8.66 x 4.33 x 0.98"      
Packing weight: 38g  (without retail box)
Package included:
1 x repair resin
1 x repair device
1 x curing strips
1 x sleeved razor blade

1 x instruction sheet
INSTRUCTIONS (for cracks):
Slowly dispense resin into crack, moving from one end to the other at about 3 seconds per centimeter
Wait about 5-10 minutes and check to see if air is trapped in crack
If air is trapped, very gently apply a small amount of pressure to both sides and center of crack from inside the windshield to force air out
Dispense more resin into crack to fill emptied air pockets if necessary
Cover crack with curing strips
Make sure windshield is in direct sunlight and allow to cure for 5-10 minutes
Once cured, remove curing strips and scrape off excess resin with razor blade
INSTRUCTIONS (for chips, bullseyes, and starburst damage):
Scrape off loose glass fragments with razor blade
Affix applicator base to windshield around crack with suction cups making sure ring is centered above the break
Screw the resin chamber into the center ring flattening the rubber mouth to windshield gently and completely
Squeeze 3-6 drops of resin (depending on extent of damage) into the resin chamber
Screw pressure driver clockwise into resin chamber and drive resin into break
Wait about 4-6 minutes for repair resin to absorb into break (if resin has not reached all areas of break, apply heat with a hot air gun to inside of windshield to help spread the resin)
Unscrew and remove pressure driver to release any trapped air
Reapply pressure driver and repeat step 4-6 to fill air holes
Remove applicator and add a drop of resin onto areas where damage is still visible
Cover area with curing strip (no pressure necessary)
Make sure windshield is in direct sunlight and allow to cure for 5-10 minutes
Remove curing strip and scrape off any excess resin
* We do not recommend using the kit for damages greater than 15 cm / 6 inches.
Limited to first 500 customers*
*Please note - Due to high demand, we anticipate delivery of your awesome product within 12-25 days global (quicker to US, Canada, & Australia). In some cases, our carrier may take longer than the estimated delivery time to deliver our items to you. Additional delays may occur due to weather conditions, holidays etc. On orders of 2 or more items, faster shipping will be provided whenever possible!